Sometimes when I disappear from the blogosphere for a while, it's because nothing interesting is happening in my life. Lately, however, it has been quite the opposite. In fact, I've probably haven't had more big changes underway in a single month since I graduated from college 8 years ago. To wit:
Turning 30
This happened, with almost no fanfare, on Nov. 3. I spent the day -- from dawn to dusk and beyond -- working on one of several huge projects we've had going down at work. (Part of my penance for the three-week trip to Spain, I figure.) So I've basically avoided any serious ruminations about aging and the meaning of life. Probably a good thing. Although I have begun to notice some scalp peeking through when I see pictures of myself from behind. Yikes! (Unfortunately, this may be destiny at work. My mother's brother, cousin, and grandfather were all follically challenged.)
Leaving Nashville
This is a long-term work in progress (some would say 7 years in the making.) But it started to feel real this month, beginning with the fact that the entire office basically knows I'm leaving -- even though it has yet to be officially announced. When I first told the big boss earlier this year, he wanted to keep it under wraps, probably to avoid blunting my supposed "managerial effectivness." However, nothing spreads faster than a good secret, and enough people knew that word began to creep around the office. Within the last few weeks I've answered numerous queries about it, and found very few people who didn't already have an inkling of my imminent departure. My assistant has already begun dropping hints to the bosses about how great he'd be for my position. (As well he should, since he rocks -- go you, J!)
And all that was just a prelude to the last few days. In which the following happened: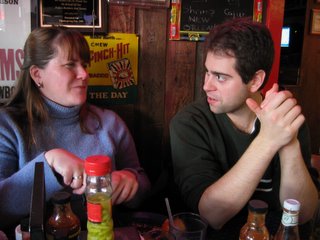 Friday - Flew from Nashville to Syracuse after an all-nighter on the afforementioned huge work project. Despite 3 hours of sleep, managed to stay up until 4 AM chatting with college buddies. Talked about topics like mortgages, kids, potential engagements, and other weighty topics that show an almost scary level of maturity for a group whose crowning achievement during our Syracuse glory days may have been stealing the "No Sledding" sign from Thornden Park at midnight! (If the Syracuse Police Department is reading this, the preceding is most certainly a joke, and should in no way imply criminal activity. Especially criminal activity that might have taken place at 901 Ackerman in 1996.)
Saturday - woke up late, and after more friends arrived we took a nostalgic trip to the Dinosaur Barbeque, Syracuse's very own "honky-tonk rib joint." Since we also nostalgically stood in line, the trip ate up a good chunk of the afternoon. The weather was unchacterisically balmy, so the wait outside was not all that nostalgic. We got over it.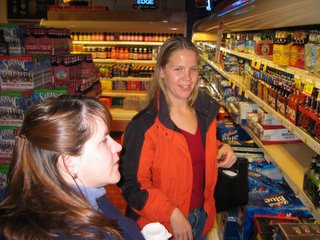 We then took another nostalgic trip, this time to the Super Wegmans in DeWitt. If you have never been to the Super Wegmans in DeWitt, then let me just say you have not experienced grocery shopping as it was meant to be. We're talking wider and more diverse selection than I think I've seen in any other grocery store, ever. The 24-hour store was a staple of late-night food and beer runs in college. This time, we focused mainly on ingredients for homemade pizza (Jay even devised a recipe for whole wheat squash pizza, which turned out to be remarkably good!) Just for old times sake, though, we threw in a 24-pack of PBR and a 12 pack of Genny Cream.
After the Wegmans trip the rest of the evening was a blur of freezing cold Beer Pong, lots of homemade pizza, out of tune singing, and various other drunken silliness interspersed with a bit of interpersonal drama. Some things never change.
Sunday - we again woke up late (staying up 'til 4 AM playing cards will do that to you). A local friend brought over her 2(!) very cute kids, so we spent a while playing with them. I was presented with a belated birthday cake (not so surprising since I was there when it was purchased.) We then split up, and after the requisite hugs and goodbyes half of us went up to campus to relive our glory days. We (nostalgically) parked illegally near the security office and nostalgically wandered across the quad (and found Aaron's funraising brick in the new "Orange Grove"). We visited the old APO APO office in Schine, and were happily amazed to discover that a moistened gummy bear propelled toward a concrete ceiling at a high velocity will stay there for at least 9 years. (Don't let it be said that we didn't make our mark on SU!)
We then nostalgically snuck out through the service entrance of Schine, nostalgically purchased greasy food on M-Street while perusing the The Daily Orange, and nostalgically bought sweatshirts at Shirtworld.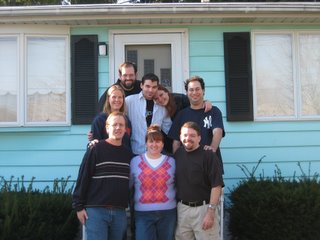 At the same time, though, a lot of things had changed. The creative problem-solving program where I worked and spent a good portion of my junior and senior years has been shut down after being run into the ground by its somewhat clueless director. The communications school where I spent another big chunk of my time just broke ground on a major expansion. There is an entirely new management school building where we used to horse around behind the Catholic Center after APO meetings. But most of all, the students all look so... young! A few years ago when we went back we pretty much blended in with everyone else. Now we're starting to look like those roving groups of homesick alumni that show up on homecoming. Wierd.
After all the campus nostalgia we could handle, I joined the Boston contingent in a very packed car for the next phase of my journey. Which brings me to...
Boston
Unless you're new to this blog, you already know about my plans to move to Boston and go to school for a dual Masters degree in Archives/History. But this week was really the first time I've taken a more-or-less irreversable step toward this goal.
To start with, I stopped by the college on Monday and registered for classes. Despite a scary diatribe I overheard in the student lounge (about how the school was lying when they said the program could be completed in a year -- something that I was never promised anyway), I remain super-impressed by how up-close and personal Simmons seems. Maybe it's just because I did my undergrad and first masters at large schools, but I am still bowled over by the fact that the heads of the History and Archives programs recognized me from my brief visit 8 months ago, and both immediately whisked me to the appropriate authorities to ensure that my registration was taken care of. The head of the history program even offered to help with my apartment search. I like the fact that I'm more than just a student number. We'll see if the honeymoon lasts, but so far I have a good feeling about this.
I am now signed up for three classes next semester -- a basic archives class that includes an internship, a "Information Organization" class, and a history seminar on Cold War Culture. Should be a pretty manageable schedule, and I'm looking forward to the work.
The other reason I came to Boston was to apartment hunt -- the idea was to finalize my housing plans in three days so that I could return to Nashville and know what I should move and what I should pitch. Apartment hunting in Boston is a daunting task, especially because anything you can find is bound to be 2-3 times more expensive than the same thing in Nashville. I spent much of the last two days driving around aimlessly, perusing CraigsList, and making unreturned phone calls to potential landlords. Thanks partly to the wonders of the Internet and digital photography, I only ended up looking at three apartments. Unfortunately, the first one I saw was so nice it basically spoiled me for anything else I came across.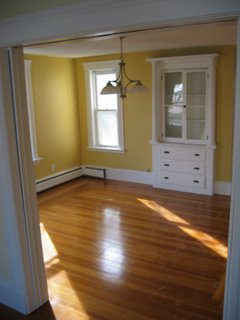 The good news was that it was a massive apartment (almost as large as my current house, beautifully restored, and with a modern kitchen). The bad news was that it was about 75% more than my current rent -- and keep in mind that I'm quitting my relatively well-paid position as part of the whole 'moving to Boston' plan. So I was pretty freaked out about the cost. Furthermore, while many larger apartments have the option of roomates, it would be difficult in this one because the only bathroom adjoins one of the bedrooms. So a roomate would have to walk through the other roomate's room to get to the bathroom. Not ideal.
That said, I admit that I fell in love with this place -- and we're talking severe crush love. The truth is, while the cost was more than I'd like to pay, in the crazy Boston real-estate market it's actually a bargain given the space and amenities. So after looking at other places that were nearly as expensive and a lot less cool, I finally convinced myself that I could swing the payments -- at least until August when the lease will run out. So I went ahead and applied for the apartment.
The landlord wanted a copy of my credit report, which I happened to have on my laptop thanks to the "free credit report" law that went into effect earlier this year. So I stopped by the house to drop it off. When he wasn't there, I called him, and it turned out that he was tapping away on his laptop at the coffee shop around the corner. So I walked over and he promptly bought me a coffee and sat me down at a table while we chatted. He is a very interesting guy -- turns out that he's originally from Uruguay, and is now making a living as a contractor, partly by fixing up and renting old apartments. (He's in the middle of gutting and refurbishing the place above mine -- I got to step across rafters to look on Monday.) He's an avid traveler, and just seems like an all-around nice guy (again, we'll see how long the honeymoon lasts). After looking over my credit report and resume, he said he would take the matter to his wife tonight, and they would make a decision on whether to rent to me. (They'd already had another applicant.)
I went back to my friend's apartment, bought her some new printer paper and ink to replace what I had used, and then sat around. A little after 5 I got the call from the landlord, who told me that they wanted to rent me the apartment! So we're meeting first thing tomorrow to go over the lease, after which I will be the proud renter of a severely-overpriced but very cool apartment in the Powderhouse Square neighborhood of Somerville, MA.
I am still a little freaked out about the price, especially since I have no idea what my earning potential as a part timer/freelancer/student is going to be. That said, I should have sufficient savings to absorb the hit from now through August, by which time I should have a better idea on whether I'm living beyond my means. If necessary I can move again at that point after a more leisurely apartment hunt. (Although I can barely imagine the hell of having to move twice within a year!)
From the social angle, I'm already feeling really good about my decision to move to Boston. I've managed to go out with friends both nights I was here (something I rarely manage due to job commitments in Nashville.) I've already met several new people, including a fellow grad student at Simmons who has been doing bar trivia with my Syracuse friends for months. And I still love the brainy yet super-diverse vibe in Boston, something that Nashville is just starting to get in small pockets.
So after the big lease signing tomorrow, I'm off to DC for Thanksgiving, followed by a quick jaunt to visit the two brothers now cohabiting in Richmond, followed by a return to Nashville, where I have to figure out a plan for packing and moving all my stuff in the next 8 weeks. It's going to be a busy and stressful time, but I'm really looking forward to the change.